Daily Multivitamin & Probiotics Cat Chews- Natural Supplement for Cats with Omega 3, 90 Cat Chews
For cats one year of age and older. To help overall feline health through multivitamins and probiotics. Taurine is vital for feline heart, kidney and eye health. This multivitamin combines benefits of five B Vitamins that may help support cardiovascular systems.
Net Weight
Net Weight 3.18 oz. (90 g)
Approximately 90 chews

Regular price

Price:

$19.99 USD

Regular price

Sale price

Price:

$19.99 USD

Unit price

per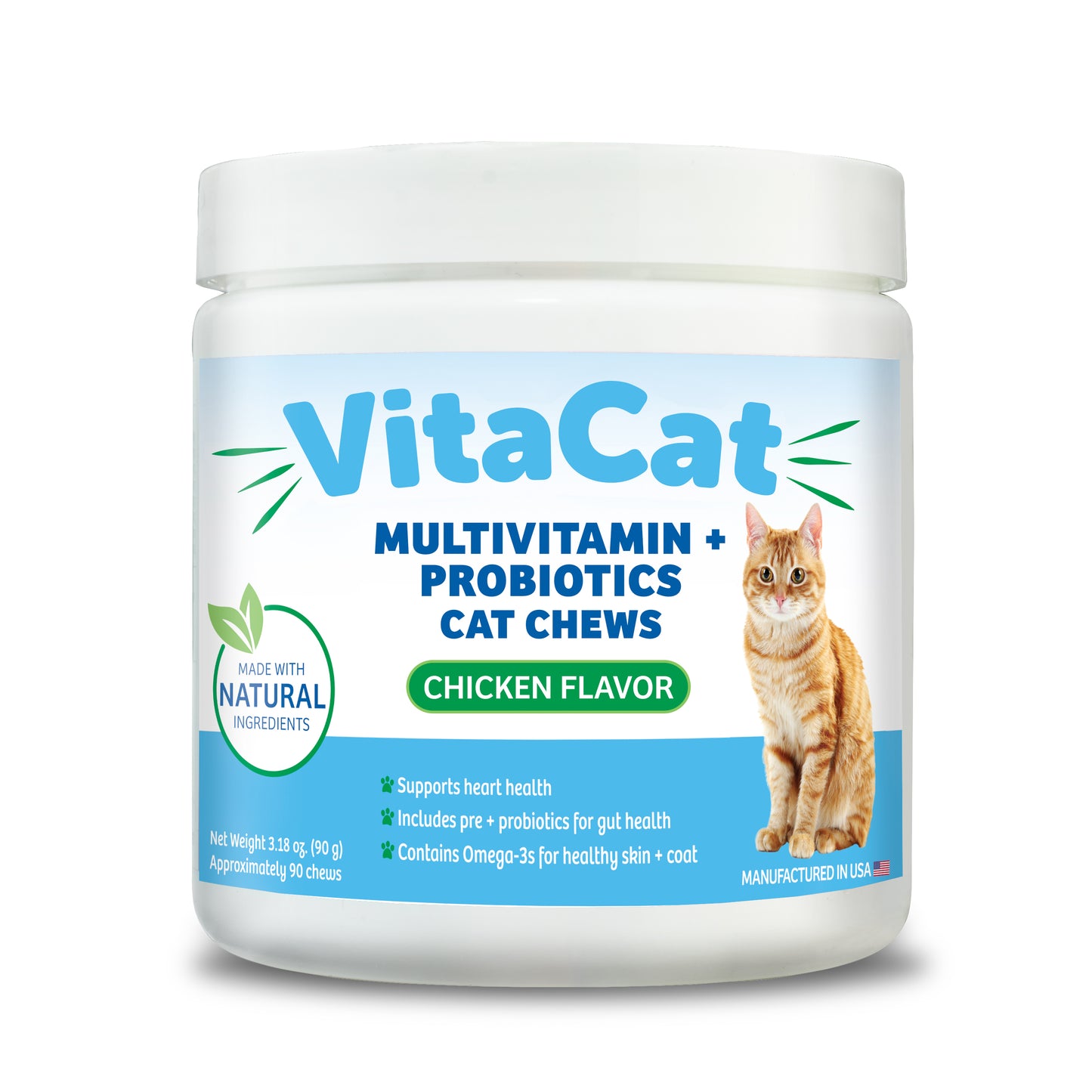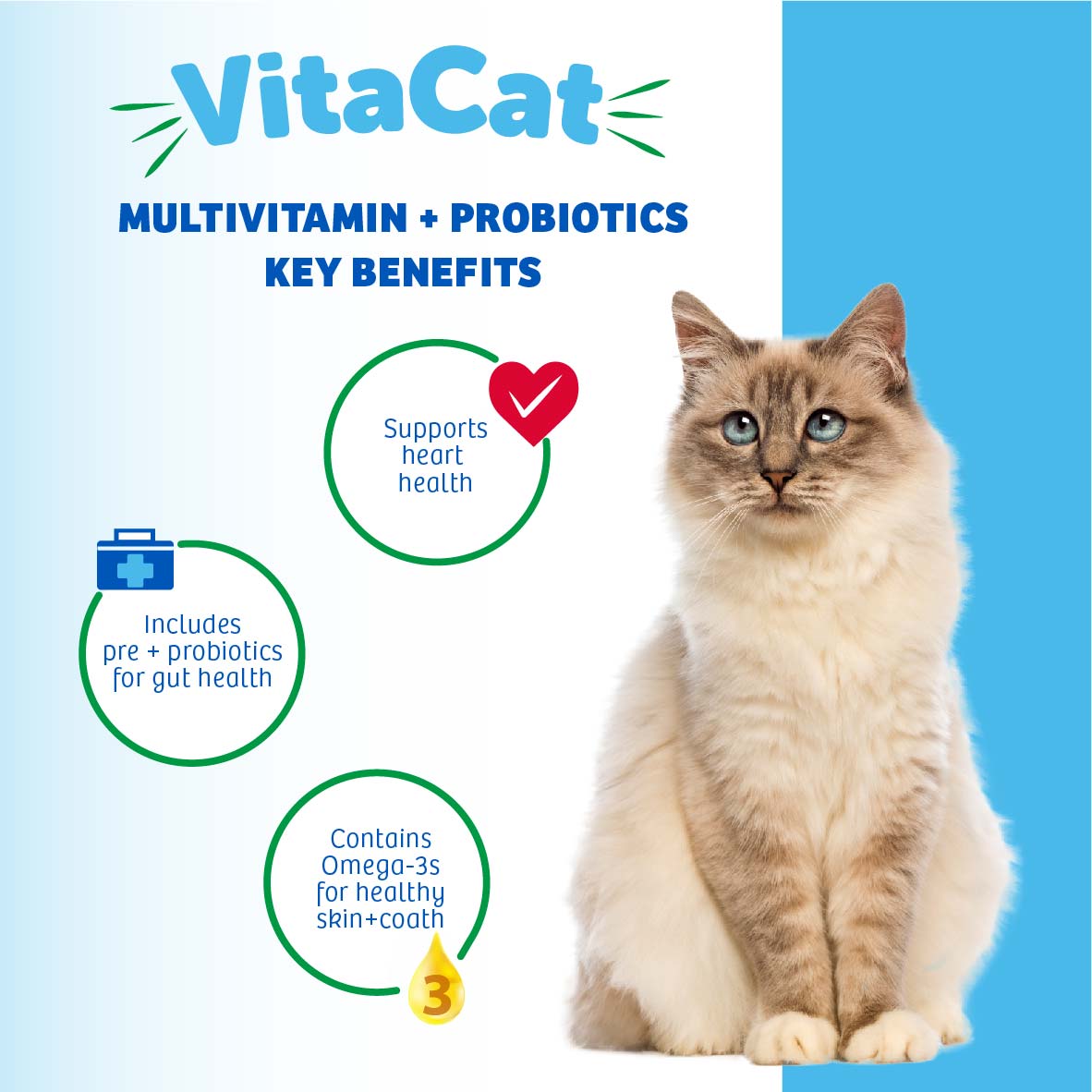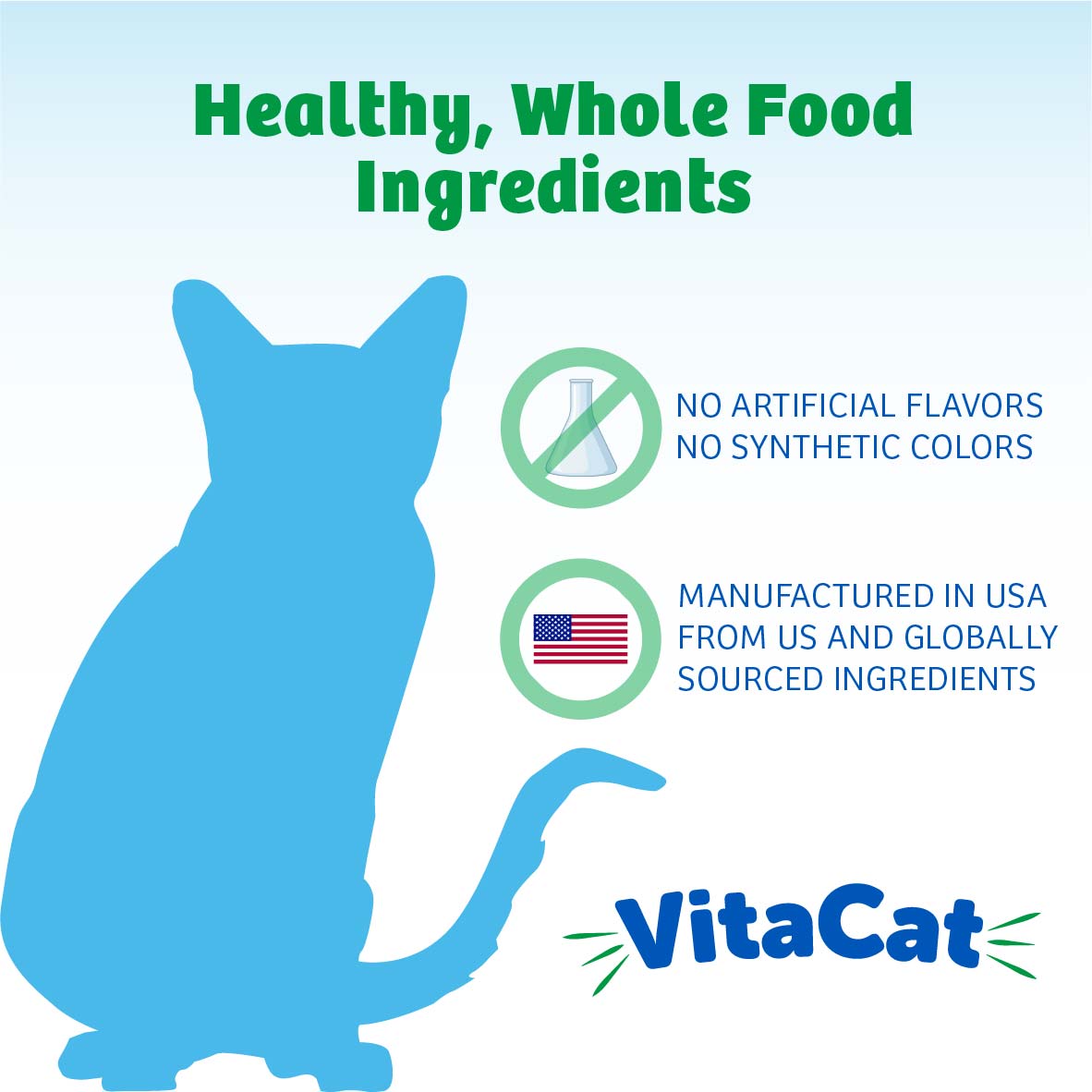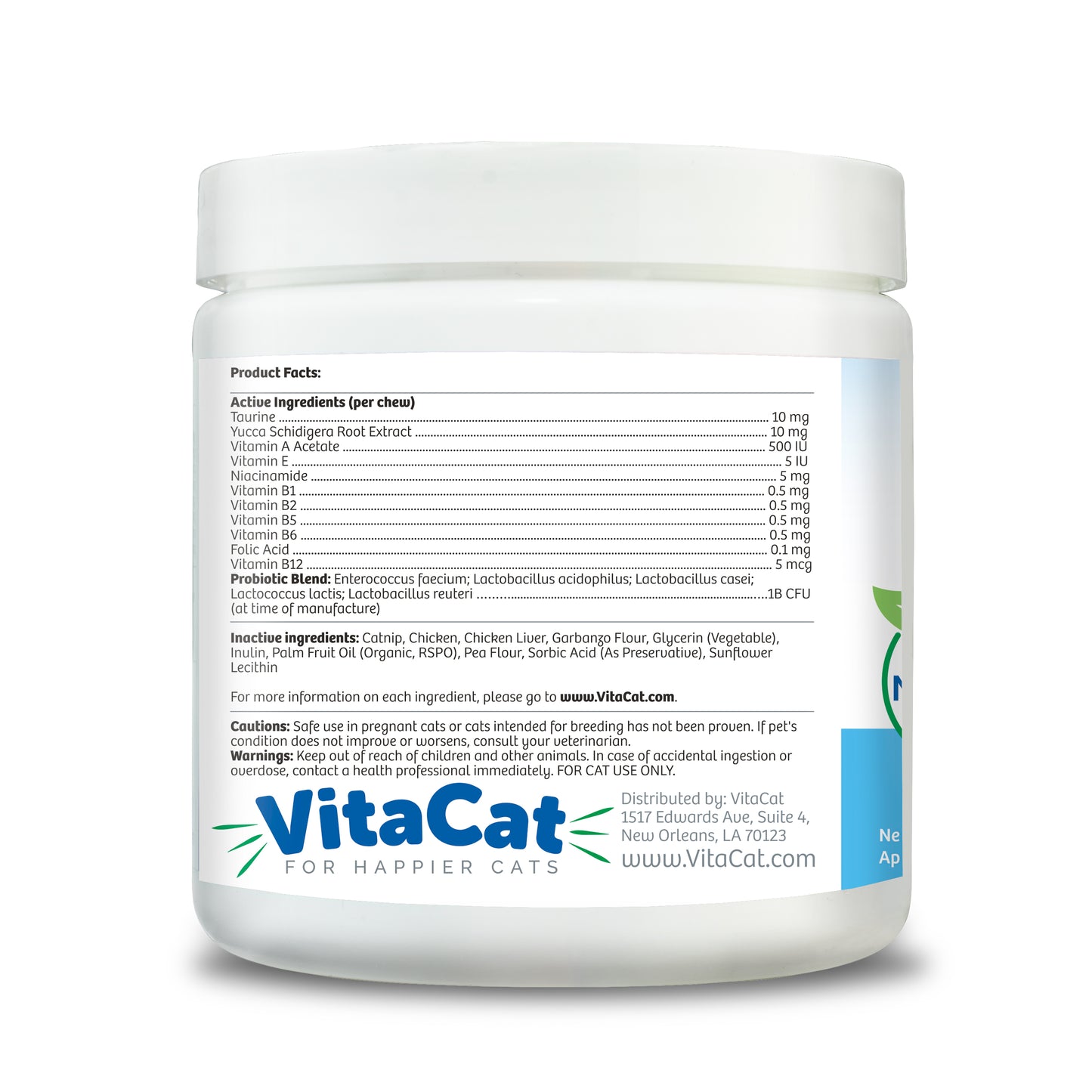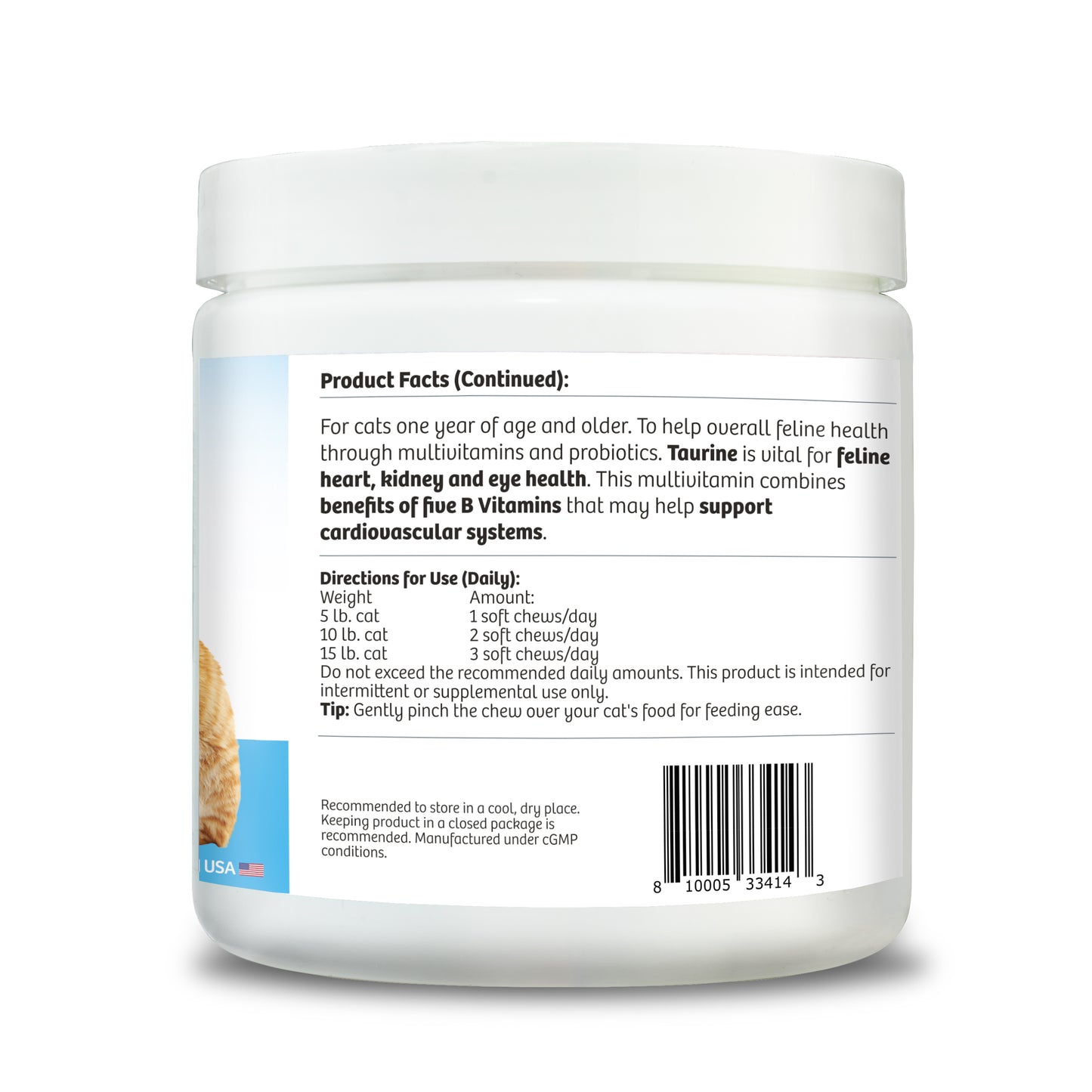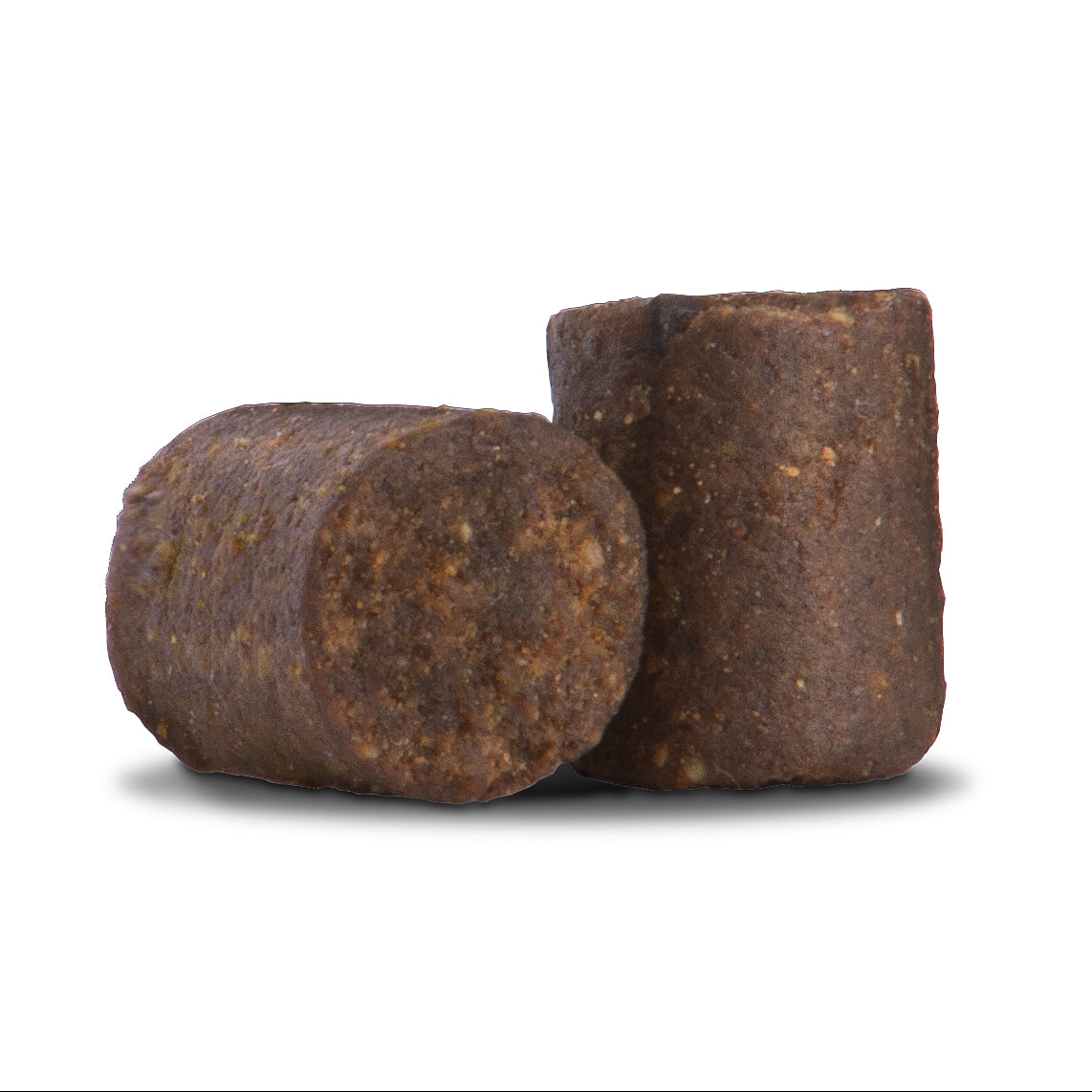 Minimizes hairball formation
Includes pre & probiotics for gut health and contains omega-3s for healthy skin & coat
Active Ingredients
Active Ingredients (per chew)
Taurine 10 mg
Yucca Schidigera Root Extract 10 mg
Niacinamide 5 mg
Vitamin B1 0.5 mg
Vitamin B2 0.5 mg
Vitamin B5 0.5 mg
Vitamin B6 0.5 mg
Folic Acid 0.1 mg
Vitamin B12 0.005 mg
Probiotic Blend: Enterococcus faecium; Lactobacillus acidophilus; Lactobacillus casei; Lactococcus lactis; Lactobacillus reuteri 1B CFU (at time of manufacture)
Inactive Ingredients
Catnip, Chicken Liver, Chicken Meat Powder, Garbanzo Flour, Glycerin (Vegetable), Inulin, Palm Fruit Oil (Organic, RSPO), Pea Flour, Sorbic Acid, Sunflower Lecithin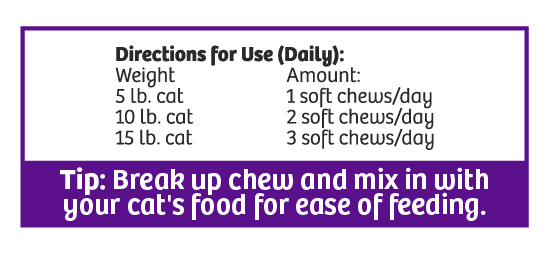 Usage
For cats one year of age and older.
Directions
Directions: Do not exceed the recommended amounts below.
Suggested Use:
5 lb. cat 1 soft chews/day
10 lb. cat 2 soft chews/day
15 lb. cat 3 chews/day
20 lb. cat 4 chews/day
This product is intended for supplemental feeding only.
Product Caution & Warning
Cautions: Safe use in pregnant animals or animals intended for breeding has not been proven. Consult with your veterinarian before using this product. If animal's condition worsens, discontinue use and consult your veterinarian. An examination from a veterinarian is recommended prior to using this product.
Warnings: For animal use only. Keep out of the reach of children and animals. In case of accidental overdose, contact a health professional immediately.
Store in a cool, dry place. Keeping product in a closed package is recommended. Manufactured under cGMP conditions.
Vita cat multivitamin. Probiotics
This product is working
Very well for my 15 year old cat. I mix it with his canned food and he eats
It , no problems. I reccomend this item it is
Ver good.
Daily Multivitamin & Probiotics Cat Chews- Natural Supplement for Cats with Omega 3, 90 Cat Chews
I love these two products for my cat. We have not had hairballs, his fur is shiny and soft, he sheds very little now.
After napping when he would get up he would hiss, meow and jump. He would walk stiffly. That is all gone since he has been on the joint supplement.
This treat transformed my aging kitty!
We adopted our sweet Milo just over a year ago. He's an aging kitty- 9 years old now. Poor little guy has a persistent problem, and we turned to VitaCat for help. Canned food periodically upsets his bowels and gives him diarrhea. It doesn't matter if we try different brands, it just keeps happening. And when it happens, he gets just terribly upset about it. Poor little thing gets just distraught about it. We don't get mad at him, but it is heartbreaking to see him get so upset. And we knew it couldn't possibly feel very good. We started giving him Vitacat probiotics to try to help. The first thing we noticed after a few days is that he gets playful periodically. Since he was never playful before, this was an unexpected surprise. This definitely made us smile to see, since he is an older kitty. And then we started noticing that his incidences of diarrhea are WAY down. 90% of the time, he loves his treats and stands up on his back legs like a little squirrel when we pull the treat out. The 10% of the time that he is mr picky cat, they get mixed in his canned cat food. For us, giving him VitaCat lets us know we are doing everything we can to care for our aging kitty. It is an enormous relief to find something that has helped his digestion and prevented the episodes that upset him so much. We love VitaCat!
Homemade cat food supplement
I make my own cat food with liver products. I read online where I needed to add a supplement to my home made cat food, so I found this company. The article I read talked about adding in a multivitamin and probiotic cat chew or powder into my cat's food. Mr. Mao loves this. I feel good knowing he is getting his balanced meals now :)