Calming Aid for Cats Plus Melatonin – 60 Chews – Helps Reduce Stress & Promote Relaxation – Great for Storms, Fireworks, Travel & Grooming
VitaCat's Calming Aid can help your cat relax in times of stress thanks to the soothing effects of organic hemp, chamomile and passion flower in these chews.
Net Weight:
Net Weight 2.5 oz. (72 g)
Approximately 60 chews

Packaged Product Dimensions (in.)
3 x 3.25 in

Packaged Product Weight (oz.)
3.8 oz

Regular price

Price:

$19.99 USD

Regular price

Sale price

Price:

$19.99 USD

Unit price

per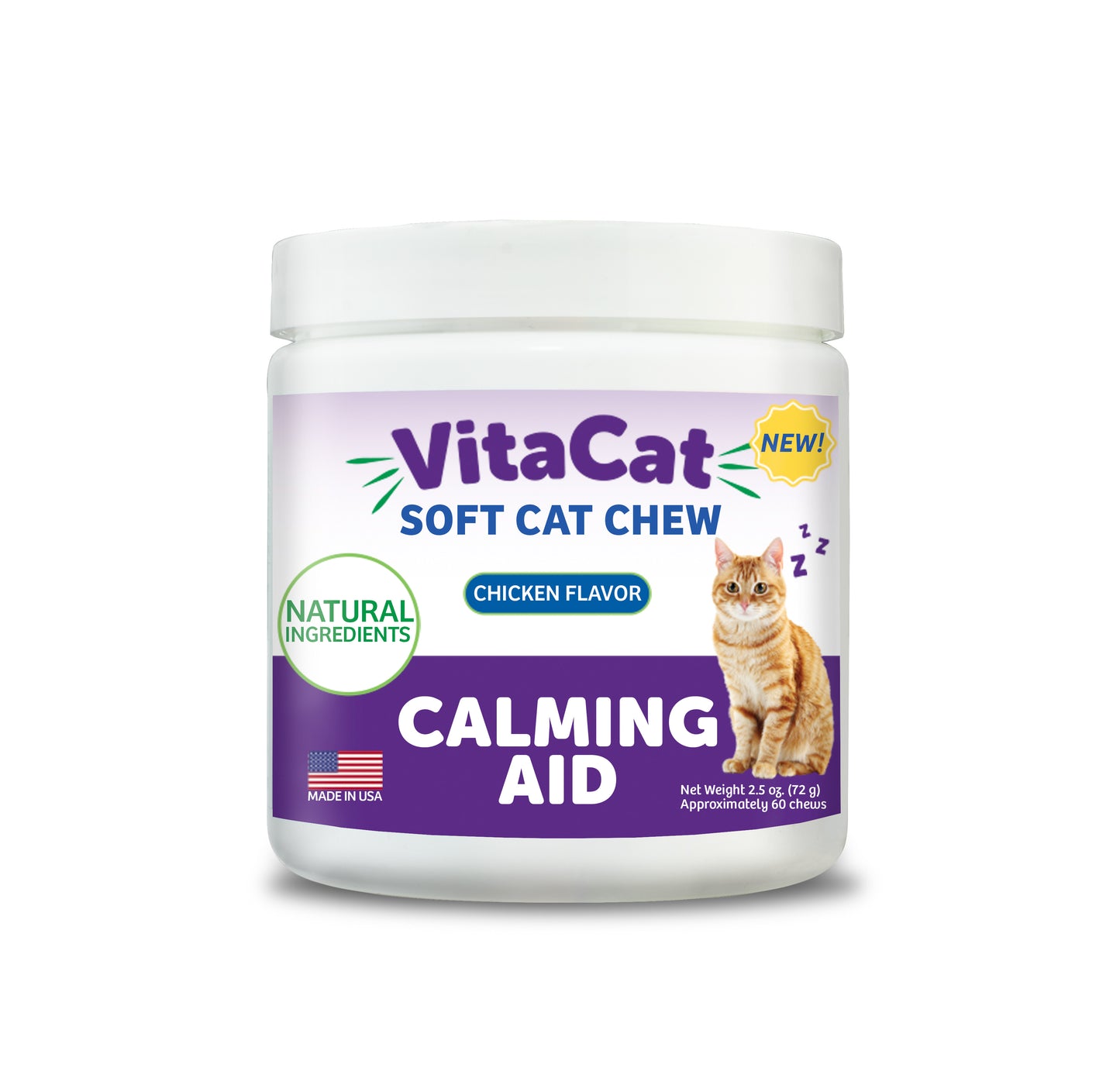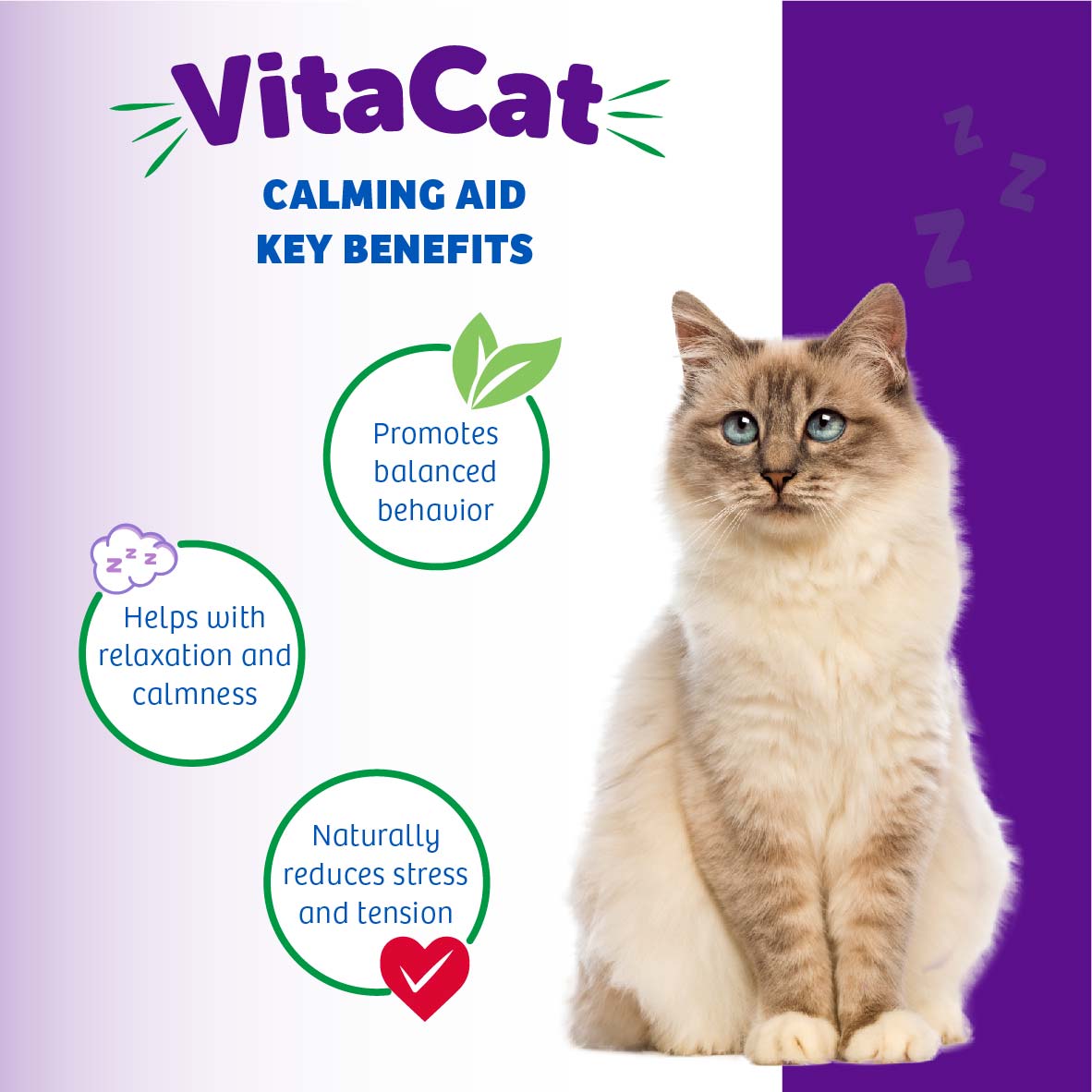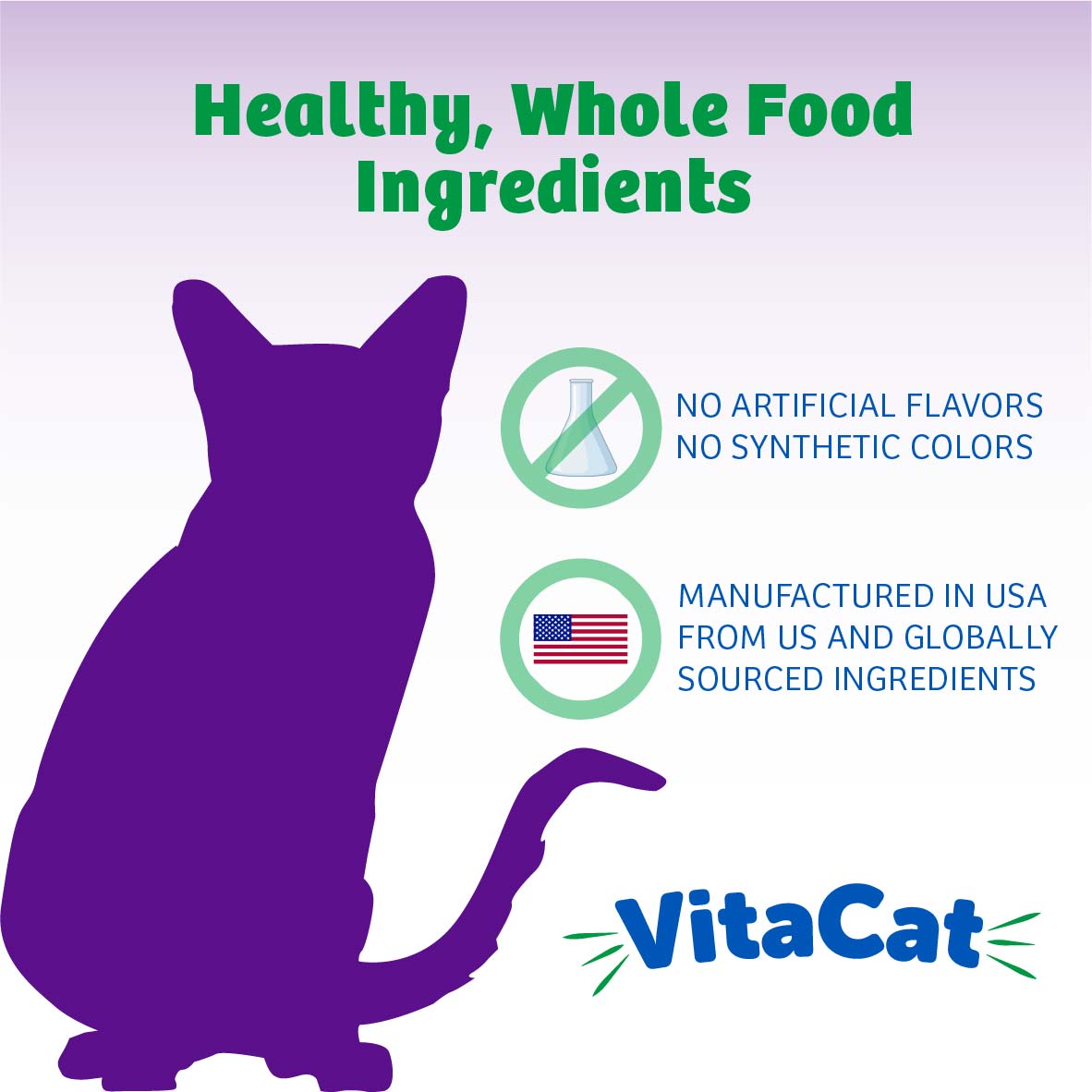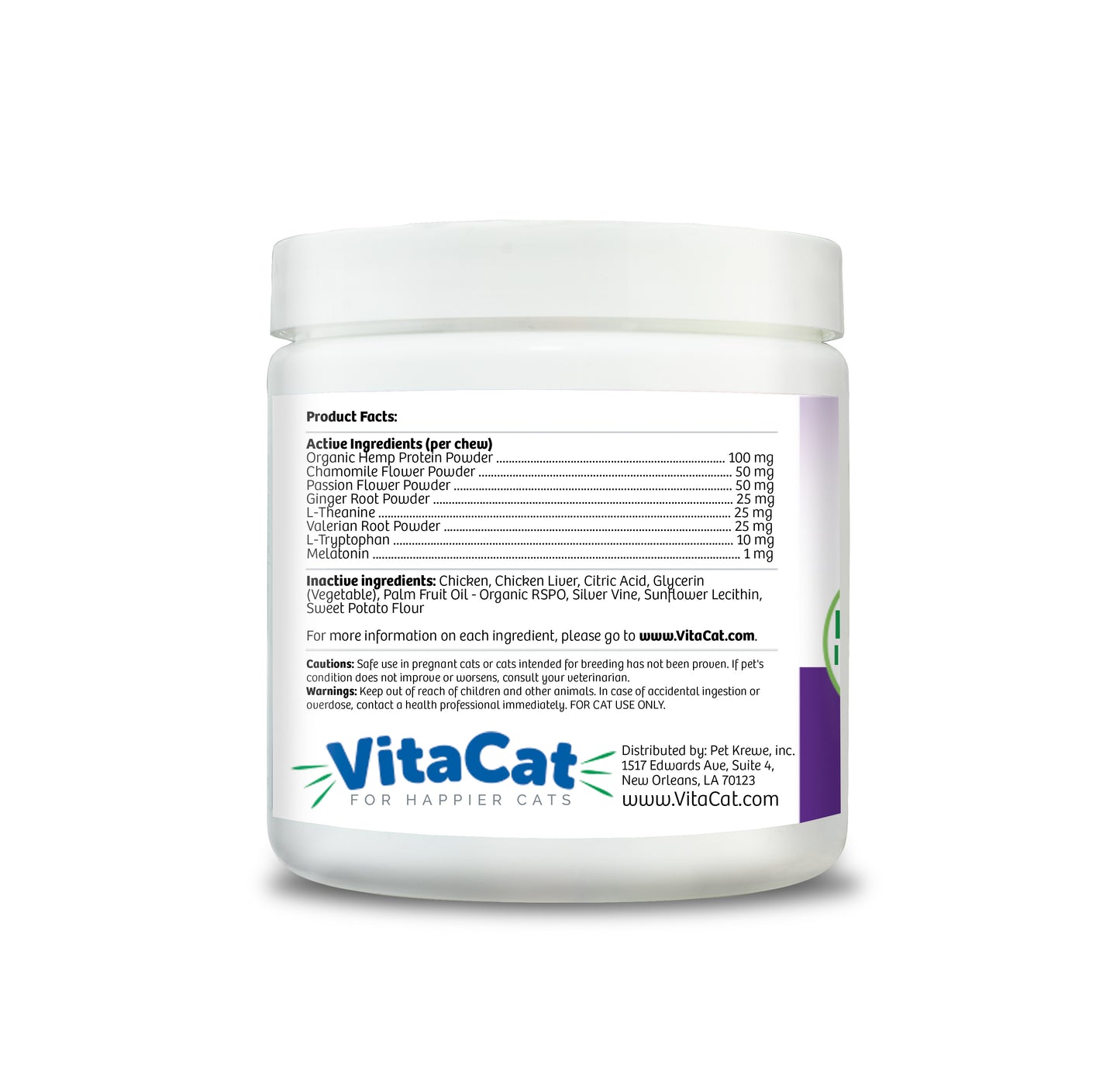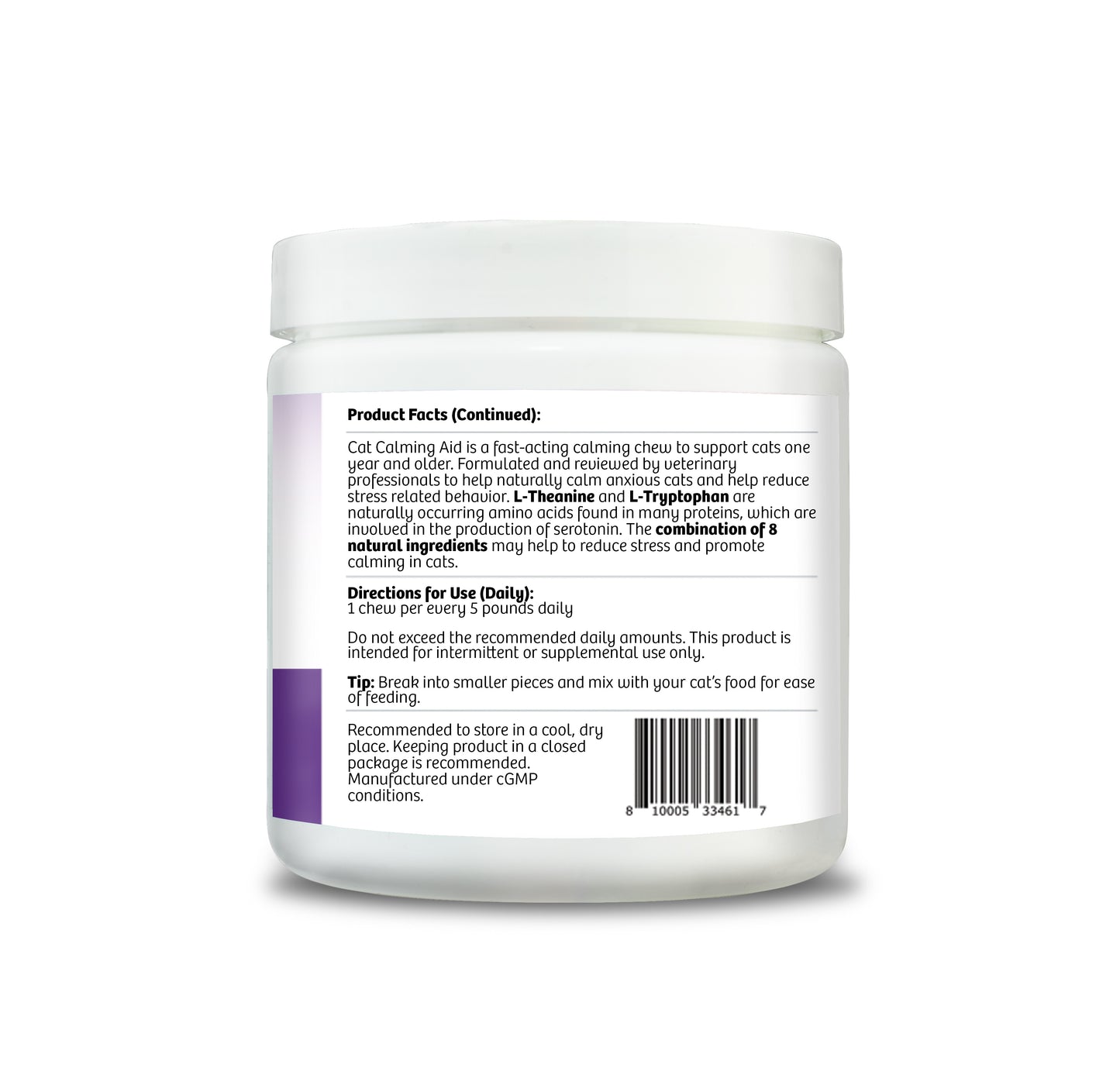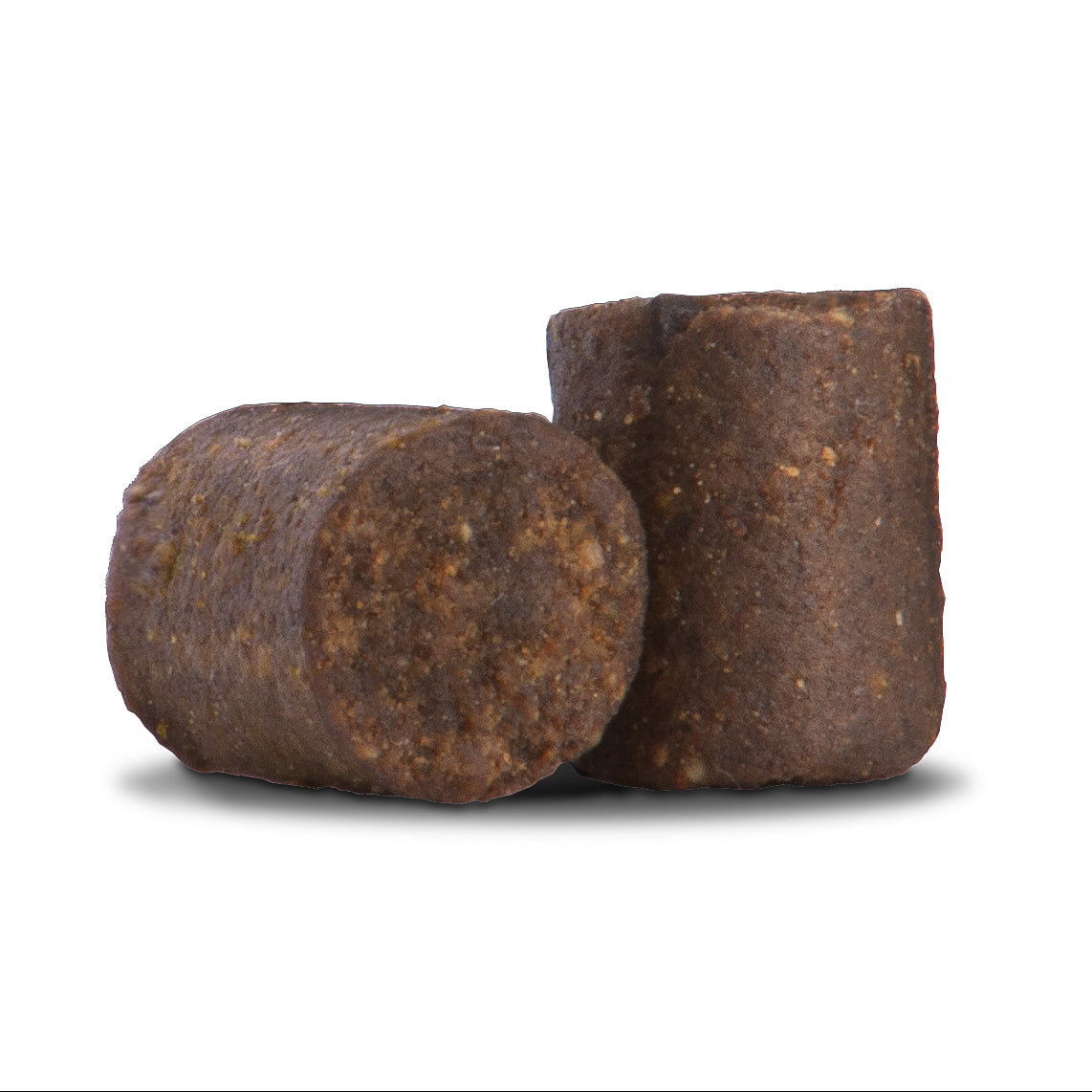 Promotes balanced behavior
Helps with relaxation and calmness
Naturally reduces stress and tension
Active Ingredients
Active Ingredients (per 1.2 gram chew)

Organic Hemp Protein Powder 100 mg

Chamomile Flower Powder 50 mg

Passion Flower Powder 50 mg

Ginger Root Powder 25 mg

L-Theanine 25 mg Valerian Root Powder 25 mg

L-Tryptophan 10 mg Melatonin 1 mg
Inactive Ingredients
Chicken, Citric Acid, Glycerin (vegetable), Lecithin (sunflower), Palm Fruit Oil (Organic, RSPO), Pea Protein, Silver Vine, Sweet Potato Flour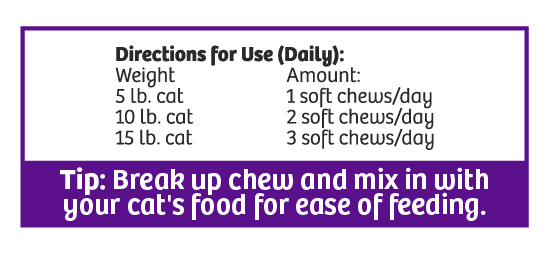 Usage
Cat Calming Aid is a fast-acting calming supplement for cats 1 year and older. Formulated and reviewed by veterinary professionals to naturally calm anxious cats and help reduce stress-related behavior. L-Theanine and L-Tryptophan are naturally occurring amino acids found in many proteins, which are involved in the production of serotonin. The combination of 8 natural ingredients helps to reduce stress and promote calmning in cats.
Directions
Directions for Use (Daily):
Do not exceed the recommended daily amounts.
Suggested Use:
Weight Amount:
5 lb. cat 1 soft chews/day
10 lb. cat 2 soft chews/day
15 lb. cat 3 soft chews/day
20 lb. cat 4 soft chews/day
Do not exceed the recommended daily amounts. This product is intended for intermittent or supplemental use only.
Product Caution & Warning
Cautions: Safe use in pregnant cats or cats intended for breeding has not been proven. Consult your veterinarian before using this product on your pet. If pet's condition does not improve or worsens, consult your veterinarian.
Warnings: FOR CAT USE ONLY. Keep out of the reach of children and other animals. In case of accidental ingestion or overdose contact a health professional immediately.
Recommended to store in a cool, dry place. Keeping product in a closed package is recommended.
Manufactured under cGMP conditions.
Really helped with a long flight!
We had to take a 6 hour flight with our usually anxious cats. The VitaCat calming aid seemed to really take the edge off throughout the trip and when we arrived both cats were far more relaxed than they ever have been going into a new environment. I crumbled the treat into their food and they ate it right up!
Product actually calms my cat, but I have to break it up in their food
Product works well. My cat will eat it only after I crumble it into his wet food. But it really does calm him down, which is good for everyone. ahaha.